Time to continue with my account of my March trip to the island paradise of Koh Krana. Like I said, only the name has been changed, but the place described here exists. Its just north of the Malaysian border... and with a little research you'll find out its real name.
Back to where I left off... the boat ride only takes an hour from Langkawi's Telaga Harbor. Once you land at Koh Krana, its a whole different place altogether...


Longtail motorboat on southern beach / Pattaya Beach







After checking in at the Thai immigration post on the southern beach (named Pattaya beach by the locals), I had to trek through a jungle path to get to my chalet on the north of the island. There are no tarred roads here. The main form of transport on this

3km by 2km

island is on foot. If you're lazy, you can hire a longtail motorboat to get you from one beach to the other.

And when it gets dark, bring a torchlight along because the jungle paths on Koh Krana will be pitch black, except at some areas. If you're superstitious or on acid, its best not to walk alone.


For only 250 baht/night (RM25), I got myself a nice chalet with an excellent view of the sea, the coral reefs, and the much larger island of Koh Adang in the back. This place is called Sunset Beach... much quieter compared to the east (Sunrise Beach) and south (Pattaya Beach) beaches. No noise from the unmuffled longtails, few tourists around, nicer beaches and coral, plus the food & drink here is a little cheaper. A great place to be if you wanna get away from it all.



The view from the chalet balcony, with Koh Adang in
the background. Its tempting to swim across...
(click to enlarge)



Of course, there's a catch; the place has no TV and phone. Hell, they only turn on the electricity at 6PM (which comes from an old truck engine modified into a generator). But don't worry about sweating up, there's always a nice breeze blowing at this part of the island, so you'll won't really have the need for a fan, what more air conditioning.


Nice chalet facing seaside directly. Bamboo furnishing. Double bed.
Beautiful coral reef offshore.
Only 250 Baht.
Also included...
...tree frogs in your bathroom...
...and hermit crabs on your balcony
(click to enlarge)



And since this place is right next to the jungle, you'll get all sorts of critters paying you a visit. 8-inch millipedes, big spiders, bats, lizards, tree frogs, and at night... mice. But they're jungle mice... so they're clean. Just don't leave food in your bags or around your room, because Mickey Mouse and friends will nibble at them. Trust me.



Bonus... 8-inch millipedes, especially after rain
The biggest nuisance is from the mosquitoes... they're fucking huge and will proceed to attack you the moment the sun starts to go down. However, a generous application of repellent or citronella wax to your skin will tell them to fuck off. Then, you can sit down in the veranda of your chalet and enjoy the beautiful sunset...




If this "back to basics, back to nature" place is too much for you to bear, more comfortable hotels can be found on Sunrise and Pattaya Beach. Of course they'll be more expensive...



Sunset beach, on the northern part of Koh Krana.
The corals here are nicer for snorkeling

(click to enlarge)



A small pathway to the beach flanked with hibiscus
A small beach hidden on the northwest side of Koh Krana.
Only accessible by hiking through a small jungle...




On the island of Koh Krana itself there is much to do, besides lazing about on the beach and ogling the topless girls lazing on the beach. The main activity is... of course, snorkeling and diving round the coral reefs. The moment you wade into the water and swim out, you'll already see several types of colorful reef fish. Twenty more meters out... and you'll see many many more... all around the corals & sea anemones below (and around you). The water is very clear... you can see up to 15-20 meters away...





One of the best moments is when you're suddenly surrounded by thousands of these blue-green 2-inch long fishes that look like anchovies (ikan bilis). Reach out with your hand to touch one of them... if you want.



If you're lucky, you might spot a stingray. Or perhaps a moray eel prowling among the corals. Stay clear of these guys, they bite bad: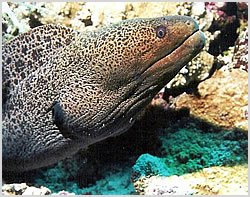 "Hello..."
(taken from 'AsiaDiveSite.com')



And don't get too near the stingrays... later that night, Fiona (the woman who runs the Karma Bar) told me that some Mat Salleh tourist got stung by a ray earlier in the afternoon. Unlike Steve Irwin, she survived...

Sea anemone among the corals at low tide.


Clownfish

love to hide in this thing and I
did see a few while snorkeling in deeper waters

(click to enlarge)



A crab hides among some corals in low tide...


During the evening or morning, you can wade out a little to see the corals at low tide. This however, is a very bad time for snorkeling. The water level is too low to launch yourself and swim out... you'll only end up breaking corals and tearing your body on the reefs. Or worse, collide with a

sea rambutan

.
There are several places off Koh Krana great for shallow snorkeling... according to the local Sea Gypsies; between the two small islands off Sunrise Beach, a hundred meters off Pattaya Beach, and on the western/north-west part of the island close to Sunset Beach.
I had only checked out the last area on the northwest side, but still it was great. This part is 12-feet deep and you can see up to 25 meters underwater. All around you on the seafloor are endless patches of staghorn corals with parrotfish & other reef creatures darting about.
The other islands nearby Koh Krana have nicer spots for diving and snorkeling, but you'll need a boat to get there. Best to go with some friends, that way you can share the fun and the boat rental. As for me, I lack a diving license, and I only had 3 days... so I missed out the best parts of the islands.
If you wanna do some hiking & jungle trekking for the day, the island of Koh Adang is just a kilo away by boat. Nestled in the jungles of this island are a couple of waterfalls. Koh Adang also serves as a freshwater supply for Koh Krana... until a boat dropped an anchor on the undersea pipeline.
For a massage, check out the native village at Sunrise Beach. The Sea Gypsies (or Chao-Lei) are the local indigenous villagers on Koh Krana and the surrounding islands. Their main settlement is on Sunrise Beach, facing east but they also have smaller villages of several houses near Pattaya Beach & on the north. Speaking with the locals should be no big problem... many of them know Bahasa Melayu.


A Sea Gypsy/Chao-Lei fisherman


Massages are available for
a reasonable price...

Dog at village near Pattaya Beach




And at night, there's lots of beachside bars on the south where you can hang out, have a seafood dinner (freshly caught from the sea), and chat with the locals and tourists over bottles of Thai beer.

Go for Singha beer... it tastes much better than Chang.



Alexandra, an Italian woman who helps to run the Cozy Cove
Bar near Karma Beach


Koh Krana has many small beachside bars like Cozy Cove. The quiet surroundings
provide great relaxation and conversation with your new pals over bottles
of beer, cigarettes, and for some... a roll of ganja

Karma Beach at nighttime

Lightning over Koh Adang. The storm missed us
on Karma Beach by several kilometers



Most of the tourists here tend to be Westerners, with Thais, Japanese and Koreans following. Despite being just next door to Langkawi, I didn't see any fellow Malaysians here.

But later on my second night there, I met some Malaysians while walking along Sunrise Beach. They were glad to see a fellow countryman on this island, and I accepted their invitation to stop by:


As you can tell, they've been drinking a bit. Yes, they were making lots of noise at 2AM and it got more amusing when they started singing 'Yellow Submarine'.



=================


On the third (and last) day, the fun came to an end. I had to catch the 3PM ferry to Langkawi, but before that... I had one last swim around the reefs before packing my stuff up and checking out. The reception/restaurant was empty however, with nobody around. A notice in broken English on the desk said the Chao-Lei woman who manages the chalets had gone to the mainland with her family for shopping. Not a soul around.

I hadn't paid her for the hut, and I could just sneak outta there... but that'll be bad karma, no? So, I placed 500 Baht (RM50) together with my chalet door key in the account book. There... all settled.


And then its out of Koh Krana, and back to Langkawi (and Malaysia)...


Sunset over Langkawi...
(click to enlarge)


It was only 3 days, but I did have a great time here with lots of stuff to do. Three full days on this island felt like six days to me. I felt sad to have to leave...


But, as Arnie Schwarzenegger said...


And I will...


===================================